Schools 14-16 – BTEC Level 1/Level 2 Tech Award in Sport, Activity and Fitness
Applications for the Pre-16 Provision open in February 2022. Please do not apply for this course if you will be 16 or older in September 2022. This course is part of our Pre-16 Provision and is only accessible if your school has agreed to fund the placement during Year 10 and 11.
Course Summary
Services to Schools
Location:
Broomfield Hall
Full Time or Part Time:
PT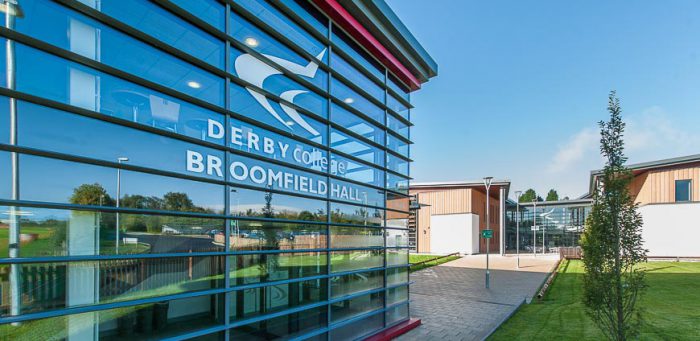 Apply now at: https://www.derby-college.ac.uk/course/schools-14-16-btec-level-1-level-2-tech-award-in-sport-activity-and-fitness
Course Information for Students
Who is this course for?
The BTEC Level 1/Level 2 Tech Award in Sport, Activity and Fitness (603/0473/X)* has been developed to provide students with technical knowledge and skills through practical study and through exploring areas such as body systems, psychology, nutrition, technology and leadership.
Students will also have the opportunity to achieve the Active iQ Level 1 Award in Fitness and Physical Activity (601/4120/7) which provides an introduction to the principles of exercise and fitness, the health and fitness industry and healthy eating.
There are currently over 400,000 jobs in this sector in the UK. Sport, activity and fitness also has a positive impact on the health of the nation – regular sport and physical activity can reduce the risk of many chronic conditions and illnesses, including coronary heart disease, stroke, type 2 diabetes, cancer and obesity. The Department of Health and Social Care is encouraging inactive people to take up activity in any form and the government has broadened Sport England's role to cover both sport and physical activity, including cycling, dancing and walking. There has never been a better time to study sport, activity and fitness.
Students will have the chance to learn in our specialist sport facilities featuring a gym, multi-use courts, exterior climbing wall and a range of outdoor pitches.
This course is delivered over one year, starting in Year 10 or Year 11, and students will study at Broomfield Hall one day a week.
*qualification featured on the DfE KS4 Performance Tables
Entry Requirements
There are no formal entry requirements: you just need a strong interest in sport and exercise.
What will you learn?
You will need to complete three mandatory units:
Understand the body and the supporting technology for sport and activity – investigate the impact of sport and activity on body systems, explore common injuries in sport and methods of rehabilitation and understand how technological advances have impacted this sector
Weighting: 30% of the course
Assessment: Internal
The principles of training, nutrition and psychology for sport and activity – investigate how training can improve fitness for sport and activity, explore how a healthy diet (macro and micronutrients) and hydration are beneficial for sport and activity and understand how psychological factors such as motivation, self-confidence and anxiety can influence participation in sport and activity
Weighting: 40% of the course
Assessment: External examination
Applying the principles of sport and activity – understand the fundamentals of sport and activity leadership, plan activity sessions for target groups and understand how to plan for health, fitness and diet
Weighting: 30% of the course
Assessment: Internal
How will you learn?
What will you need to bring with you?
You must wear a Sports Academy branded polo shirt (purchased through Derby College Group) and suitable footwear and sportswear for your lower half. You will be required to supply your own writing materials.
How will you be assessed?
Students will be assessed through a mixture of internal assignments and an external examination.
All three units must be successfully completed to gain this qualification.
Where next?
Further Study
Upon completion of the qualification, and depending on the grades achieved and other qualifications gained, students may wish to progress to:
The Level 2 Certificate in Sports Coaching, Massage and Fitness
The Level 2 Certificate in Gym Instruction
The Level 3 Foundation Diploma in Sports Coaching and Development
The Level 3 Diploma in Sports Massage
An apprenticeship programme at Level 2 or 3
A-levels
You will be able to access advice and guidance while studying at the College to learn more about the post-16 opportunities available for you.
Careers
Further study can lead to a variety of careers, including:
Personal trainer
Professional athlete
Sports coach
Senior outdoor activities instructor
Sports physiotherapist
For more information, email the 14-16 team at 14-16@derby-college.ac.uk
Who do you contact for more information?
For more information contact Derby College on 0800 0280289 or enquiries@derby-college.ac.uk
Course Information for Employers
Career Information
This course could lead to one of these careers...
Sports Coaches, Instructors and Officials
£17553
Sports and Leisure Assistants
£11140
Leisure and Sports Managers
£29646
More Careers Information at: https://www.derby-college.ac.uk/career-pathways
DCG Success Stories
Discover how our students have achieved success. Their hard work and dedication to learning has enabled them to succeed in rewarding careers or progress onto higher education. We encourage progress and aspirational outcomes by guiding people onto learning pathways that lead to positive destinations. Our students have gone on to achieve great things since leaving the College. We would like to share some of their inspiring success stories with you.
Course Information Last Updated On: October 18, 2021 1:46 pm