Schools 14-16 – BTEC Level 1/Level 2 Tech Award in Creative Media Production
Applications for the Pre-16 Provision open in February 2022. Please do not apply for this course if you will be 16 or older in September 2022. This course is part of our Pre-16 Provision and is only accessible if your school has agreed to fund the placement during Year 10 and 11.
Course Summary
Subject Area:
Games Design and Esports
Services to Schools
Location:
Joseph Wright Centre
Full Time or Part Time:
PT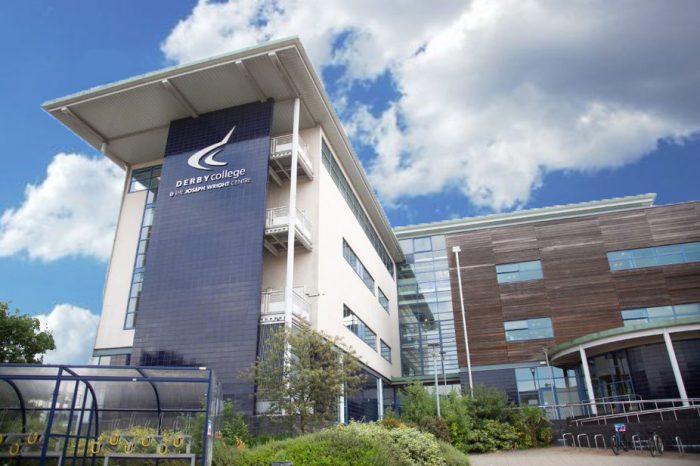 Apply now at: https://www.derby-college.ac.uk/course/schools-14-16-btec-level-1-level-2-tech-award-in-creative-media-production
Course Information for Students
Who is this course for?
The BTEC Level 1/Level 2 Tech Award in Creative Media Production (603/1238/5)* has been developed to provide students with the technical knowledge and skills needed within the fast-paced and dynamic creative industries which contribute over £84 billion to the UK economy every year.
Students will learn how to understand different audiences and engage them by making compelling media products.
This course is delivered over two years, starting in Year 10, and students will study at the Joseph Wright Centre one day a week.
*qualification featured on the DfE KS4 Performance Tables
Entry Requirements
There are no formal entry requirements: you just need a strong interest in creative media.
What will you learn?
You will need to complete three mandatory units:
Exploring media products – learn about the sector and investigate media products across the three sub-sectors: audio/moving image (TV programmes, films, video shorts, animations, radio broadcasts), publishing (newspapers, magazines, books, comics) and interactive (websites, mobile apps, video games)
Weighting: 30% of the course
Assessment: Internal
Developing digital media production – develop technical skills and techniques in the chosen discipline(s) of audio/moving image, publishing and interactive
Weighting: 30% of the course
Assessment: Internal
Create a media product in response to a brief – learn how to respond to a media brief and plan a response before applying the skills and techniques you've learned throughout the course. Reflect on your application of skills, time management and use of resources
Weighting: 40% of the course
Assessment: Externally assessed task
How will you learn?
What will you need to bring with you?
You will be required to supply your own writing materials.
How will you be assessed?
Students will be assessed through a mixture of internal assignments and externally assessed tasks.
All three units must be successfully completed to gain this qualification.
Where next?
Further Study
Upon completion of the qualification, and depending on the grades achieved and other qualifications gained, students may wish to progress to:
The Level 2 Certificate in Creative Media Skills or Games Development
The Level 3 Award in Creative Media Production or Games Design
An apprenticeship programme at Level 2 or 3
A-levels
You will be able to access advice and guidance while studying at the College to learn more about the post-16 opportunities available for you.
Careers
Further study can lead to a variety of careers, including:
Digital marketer
Media buyer
Public relations officer
Social media manager
Television/film/video producer
Web content manager
For more information, email the 14-16 team at 14-16@derby-college.ac.uk
Who do you contact for more information?
For more information contact Derby College on 0800 0280289 or enquiries@derby-college.ac.uk
Course Information for Employers
Career Information
This course could lead to one of these careers...
Public Relations Professionals
£26741
Arts Officers, Producers and Directors
£32115
Marketing Associate Professionals
£24897
Advertising and Public Relations Directors
£49047
More Careers Information at: https://www.derby-college.ac.uk/career-pathways
DCG Success Stories
Discover how our students have achieved success. Their hard work and dedication to learning has enabled them to succeed in rewarding careers or progress onto higher education. We encourage progress and aspirational outcomes by guiding people onto learning pathways that lead to positive destinations. Our students have gone on to achieve great things since leaving the College. We would like to share some of their inspiring success stories with you.
Course Information Last Updated On: October 18, 2021 1:48 pm