NPTC Award in Aerial Tree Cutting with a Chainsaw using Free-fall Techniques
Current legislation requires that all those who undertake chainsaw operations within the canopy of a tree from rope and harness must be appropriately trained and qualified
Course Summary
Subject Area:
Arboriculture
Adult and Community
Location:
Broomfield Hall
Full Time or Part Time:
PT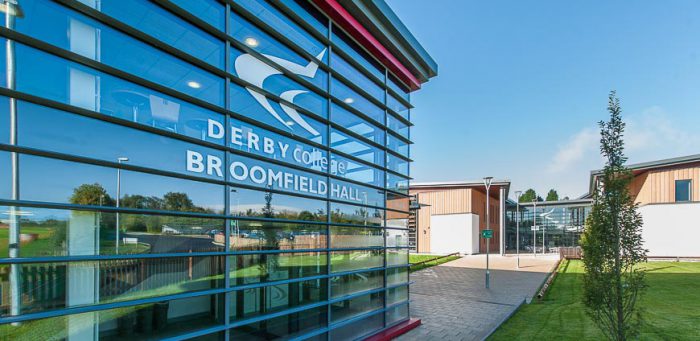 Apply now at: https://www.derby-college.ac.uk/course/nptc-award-in-aerial-tree-cutting-with-a-chainsaw-using-free-fall-techniques
Course Information for Students
Who is this course for?
Current legislation requires that all those who undertake chainsaw operations within the canopy of a tree from rope and harness must be appropriately trained and qualified. The training course offered by Derby College Group equips the candidate to undertake an industry-compliant 'Certificate of Competence' assessment.
Entry Requirements
You will need to be at least 18 years of age and should hold a 'Certificate of Competence' in the following units:
Award in Chainsaw Maintenance and Crosscutting
Award in Felling and Processing Trees up to 350mm
Award in Tree Climbing and Aerial Rescue
(Verification of these units must be produced prior to the start of the course.)
What will you learn?
The course will cover the skills to undertake safe and efficient branch removal operations, utilising a range of cutting techniques while being supported from rope and harness.
How will you learn?
This course will be delivered on on-site.
What will you need to bring with you?
All specialist safety clothing, climbing equipment, chainsaws and ancillary tools can be provided by the College, for which a fee will be charged.

Please note – equipment is not available for hire for assessments. You will therefore need to have other arrangements in place for your assessment.

Candidates may use their own climbing equipment and chainsaw providing that it complies with current legislation. All climbing equipment must have LOLER certification, which will need to be produced at the start of the course.

It is recommended that candidates do not purchase specialist equipment prior to the course. The tutor will offer advice on the purchase of all specialist equipment during the training.
How will you be assessed?
Assessment leading to certification should take place as soon as possible following the successful completion of the training course.
Where next?
Derby College Group offers a range of one-day, weekend and evening courses relating to Arboriculture, as well as a wide range of other land-based topics – please see the Derby College Group Part-time Prospectus for a full list and details.
Who do you contact for more information?
For more information contact Derby College on 0800 0280289 or enquiries@derby-college.ac.uk
Course Information for Employers
Information for Employers
If you are an employer and would like to know more about the apprenticeships and professional training we deliver or how you can get involved in co-creating and co-delivering curriculum, please contact us via email on businessenquiries@derby-college.ac.uk, call us on 01332 387 421 or visit our employer pages here.
Career Information
Sorry - no lmi data
More Careers Information at: https://www.derby-college.ac.uk/career-pathways
DCG Success Stories
Discover how our students have achieved success. Their hard work and dedication to learning has enabled them to succeed in rewarding careers or progress onto higher education. We encourage progress and aspirational outcomes by guiding people onto learning pathways that lead to positive destinations. Our students have gone on to achieve great things since leaving the College. We would like to share some of their inspiring success stories with you. Get Started...
Use our online application form to apply for this course.
Course Information Last Updated On: November 8, 2022 4:11 pm