Livestock Unit Technician Pre-Apprenticeship Course
This programme is aimed at students who are looking at progressing to an apprenticeship programme and would like to gain knowledge and practical skills in preparation for the agriculture workplace.
Course Summary
Subject Area:
Agriculture
School Leaver - Vocational/Technical
Location:
Broomfield Hall
Full Time or Part Time:
PT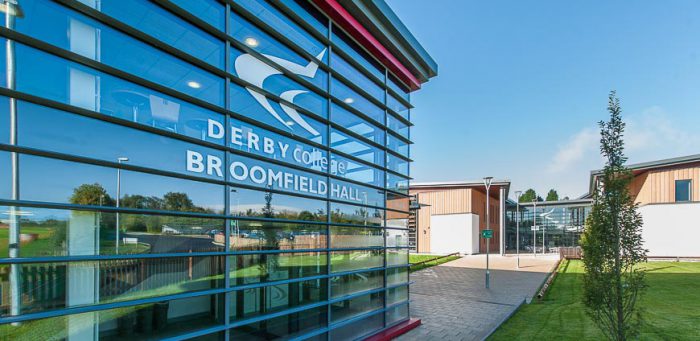 Apply now at: https://www.derby-college.ac.uk/course/livestock-unit-technician-pre-apprenticeship-course
Course Information for Students
Who is this course for?
This programme is aimed at students who are looking at progressing to an apprenticeship programme and would like to gain knowledge and practical skills in preparation for the workplace. The course is delivered over 12 weeks and covers a wide variety of topics within the agricultural industry.
The programme will include one day per week attending a classroom/practical workshop at Derby College Farm, and at least two days per week out on work placement gaining experience in the industry. To support their main programme of study, students will also develop employability skills.
Entry Requirements
Some experience volunteering with animals
A good work ethic
A commitment to a career in agriculture
Three GCSEs at grade C/4 or above
An interest in learning about livestock and how to manage them, plus the business side of farm life
What will you learn?
You will undertake mandatory work experience days within your chosen work placements.
Maths, English and employability skills will be embedded throughout the course.
The basics of the Livestock Unit Technician course that you will cover are:
Management skills
Feeding and nutrition
Health, welfare and lifecycles
Supply chains and stakeholders
How will you learn?
The course is delivered over 12 weeks. You will attend one day per week on site at Broomfield Hall undertaking both theory and practical sessions. There is also a minimum of two days per week spent at your chosen work placement. This can involve more than one different work placement where you will learn and develop new skills.
What will you need to bring with you?
We require steel toe-cap boots, long-sleeved tops and trousers to be worn during practical sessions as well as weather-appropriate clothing. You may borrow overalls from the College during this period. You also need stationery including folders, paper, pens, and a memory stick for any work done on a computer.
How will you be assessed?
In-class assessments will be ongoing throughout the course as various tasks are covered. Work experience will be evidenced through completing diary sheets and employer witness statements. No final exam is necessary.
Where next?
You could progress to the Level 3 Livestock Unit Technician Apprenticeship.
Who do you contact for more information?
For more information, contact Derby College Group on 0800 0280289 or enquiries@derby-college.ac.uk
Course Information for Employers
Information for Employers
If you are an employer and would like to know more about the apprenticeships and professional training we deliver or how you can get involved in co-creating and co-delivering the curriculum, please contact us via email on businessenquiries@derby-college.ac.uk, call us on 01332 387 421 or visit our employer pages here.
Career Information
This course could lead to one of these careers...
Managers and Proprietors in Agriculture and Horticulture
£33463
Fishing and Other Elementary Agriculture Occupations
£22988
Farm Workers
£22914
Agricultural Machinery Drivers
£30888
Farmers
£20491
Horticultural Trades
£19973
More Careers Information at: https://www.derby-college.ac.uk/career-pathways
DCG Success Stories
Discover how our students have achieved success. Their hard work and dedication to learning has enabled them to succeed in rewarding careers or progress onto higher education. We encourage progress and aspirational outcomes by guiding people onto learning pathways that lead to positive destinations. Our students have gone on to achieve great things since leaving the College. We would like to share some of their inspiring success stories with you. Get Started...
Use our online application form to apply for this course.
Course Information Last Updated On: March 31, 2023 8:36 am