Improve Your Riding – Intermediate – January (Saturdays 11am)
Improve Your Riding is designed for those who wish to enhance their understanding of horses and their ability to ride. This course is tailor-made to suit participants' needs and we find that most riders enrol from one course to another, using it as the equivalent of a weekly riding lesson.
Course Summary
Adult and Community
Location:
Broomfield Hall
Full Time or Part Time:
PT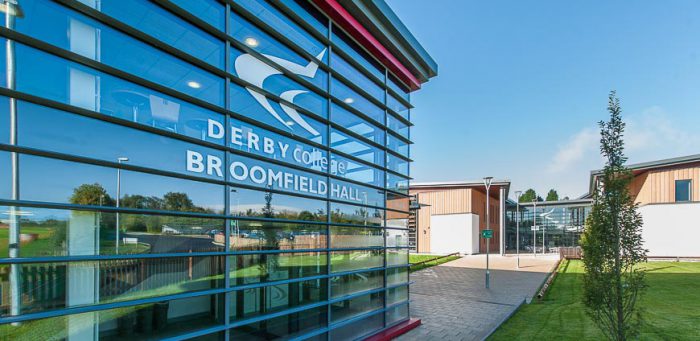 Apply now at: https://www.derby-college.ac.uk/course/improve-your-riding-intermediate-january-saturdays-11am
Course Information for Students
Who is this course for?
Improve Your Riding is designed for those who wish to enhance their understanding of horses and their ability to ride. There are three different levels which you can access depending on your previous experience, confidence and ability.
This course is at the intermediate level, designed for confident riders who have had regular riding experience.
Entry Requirements
Students must be at least 14 years of age. You will need to be an accomplished rider at walk, trot and canter and be able to maintain a balanced position over a fence. Please ring Sally Foskett, Centre Manager, to have a chat prior to the course to ensure that it is the right choice for you. Tel: 07970 726830.

In order for us to ensure the welfare of our horses, we operate a personal weight restriction of no more than 13 stone. All riders will be weighed and have a ride assessment prior to the start of the course.
What will you learn?
The course will alternate between flatwork schooling and jumping. The focus is on supporting the horses and improving their way of going. Participants will work through the scales of training in order to achieve this both on the flat and over fences.
We have a great range of horses at the College but – as their welfare is paramount – you will only be mounted on horses which suit your height and weight.
This could narrow down the selection of horses we can offer you.
How will you learn?
This course will be delivered on-site.
What will you need to bring with you?
You will be required to supply your own:
Correctly fitted and up to current safety standard riding hat with a tight chin strap
Riding gloves
Specific riding footwear, not Dubarry style country boots
Correctly fitted and up to current safety standard body protector for pole work and jumping
How will you be assessed?
There will be no formal assessment although you will receive verbal feedback during and at the end of each lesson and will be set targets for improvement.
Where next?
Derby College Group offers a range of one-day, weekend and evening courses relating to Equine – please see the Derby College Group Equestrian website: www.derby-college.co.uk/equestrian-centre.
We also offer a wide range of other land-based topics – please see the Derby College Group Part-time Prospectus or the Derby College Group website for a full list and details.
Who do you contact for more information?
For more information, contact Derby College Group on 0800 0280289 or enquiries@derby-college.ac.uk
Course Information for Employers
Information for Employers
If you are an employer and would like to know more about the apprenticeships and professional training we deliver or how you can get involved in co-creating and co-delivering the curriculum, please contact us via email on businessenquiries@derby-college.ac.uk, call us on 01332 387 421 or visit our employer pages here.
Career Information
Sorry - no lmi data
More Careers Information at: https://www.derby-college.ac.uk/career-pathways
DCG Success Stories
Discover how our students have achieved success. Their hard work and dedication to learning has enabled them to succeed in rewarding careers or progress onto higher education. We encourage progress and aspirational outcomes by guiding people onto learning pathways that lead to positive destinations. Our students have gone on to achieve great things since leaving the College. We would like to share some of their inspiring success stories with you. Get Started...
Check availibility and book now on this course.
Course Information Last Updated On: November 14, 2022 2:27 pm