Foundation Degree In Business and Management Year 1 (Full Time: 120 Credits Per Year)
The qualification aims to develop knowledge, practical and theoretical skills, while fostering a creative and authentic approach to scholarship and research which enhances the employability attributes needed for engagement with the commercial sector.
Course Summary
Subject Area:
Business, Leadership and Management
Higher Education
Full Time or Part Time:
FT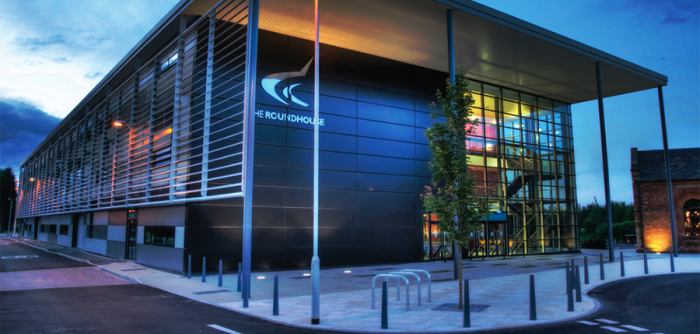 Apply now at: https://www.derby-college.ac.uk/course/foundation-degree-in-business-and-management-year-1-full-time-120-credits-per-year
Course Information for Students
Who is this course for?
Derby College Group is approved by The Open University as an appropriate organisation to offer higher education programmes leading to Open University validated awards. Please see the Student's Guide To Studying on a Programme Validated by the Open University: https://www.open.ac.uk/about/validation-partnerships/sites/www.open.ac.uk.about.validation-partnerships/files/files/A-Z/OU-Students-Guide-19-20.pdf
https://www.derby-college.ac.uk/university-higher-education-undergraduate
This programme aims to give students a balanced and holistic grounding in the different facets of business and management in a supportive and collaborative environment, drawing on the expertise of a wide range of stakeholders.
The qualification aims to develop knowledge, practical and theoretical skills, while fostering a creative and authentic approach to scholarship and research which enhances the employability attributes needed for engagement with the commercial sector.
As well as the prescribed overarching themes and concepts, students will be encouraged to reflect on their activities based on their own academic and skills-based performance and to develop the skills of good academic practitioners throughout the course.
This will generate and develop graduates who engage in critical reflection, critical thinking, evaluation and related academic abilities which complement and enhance the skills and attributes that are fundamental for student success in a variety of contexts within the business and management sector. Students will also develop analytical skills throughout the course, taking both a qualitative and quantitative approach to projects, assessments, research and scholarship.
Students will learn about business and management operations and functions as well as the overarching principles, norms and protocols in a variety of settings from large companies to sole traders and small and medium sized enterprises (SMEs).
The local D2N2 area (Derbyshire and Nottinghamshire) is a hive of business activity, with large employers (such as Rolls-Royce, JCB and Toyota), small and medium sized enterprises and sole traders all combining to create a rich business landscape that is constantly growing and evolving.
Entry Requirements
All applicants will be invited to an interview to discuss their qualifications, experience and any other related issues.
You should have one of the following:
UCAS points (MM/MPP – 64 UCAS points) – from either an Extended Diploma or National Diploma in Business or a related subject area
At least two A-levels or AS Levels in a related subject
An AVCE, GNVQ or NVQ Level 3 in a related subject
Students will also need:
• At least four GCSEs at grade 9-4 (A* – C) to include English and Maths or the equivalent
We also welcome applicants who lack institutional qualifications. All such applicants will be interviewed and may be set an appropriate piece of work upon which a judgement will be made, taking into account their academic potential and relevant experience.
You will need to be aged 18 or over at the beginning of the course.
What will you learn?
Year 1
Introduction to Business
Introduction to Strategy
Organisations and Culture (1)
Organisations and Culture (2)
Self and Professional Development
Year 2
Principles of Marketing
Business Psychology
Finance for Managers
Innovation and Change Management
Project Management: Contemporary Issues
The purpose of this programme is to:
increase understanding of organisations, their management, the economy and the business environment
ensure that students are fully prepared for a career or further study at Level 6 or postgraduate study in business and management
foster a range of skills and attributes that enable students to become effective global citizens
The overall aims of this programme have been written with due respect given to the Subject Benchmark Statement for 'Business and Management' as articulated by the QAA (QAA, 2019).
The Programme Learning Outcomes are as follows and are classified as one of the following: A (Knowledge and Understanding) B (Cognitive Skills) C (Practical and Professional Skills) and D (Key Transferable Skills)
Level 4 Stage Outcomes:
Have a detailed understanding of organisations, organisational culture and the commercial, management and business environment (A)
Have a detailed understanding of a variety of processes, procedures and practices for effective management of organisations, along with a detailed understanding of the inter-relationships between business and management functions (A)
Have a broad understanding of global, national and local business and its influence on the business environment (A)
Be able to analyse and evaluate internal and external influences on business and management and understand their importance and impact (B)
Have a critical understanding of planning and decision-making tools within the business and management context (B)
Demonstrate skills and competencies that are appropriate to the business and management environment (C)
Demonstrate awareness of ethical issues in a business and management context (C)
Demonstrate key skills synonymous with good academic practice (D)
Level 5 Stage Outcomes:
Have a detailed understanding of the inter-relationships among and the integration between business and management functions (A)
Demonstrate implementation skills of project management with good knowledge of project lifecycles and business improvement (A)
Demonstrate a range of cognitive and intellectual skills together with competencies specific to business and management (B)
Apply relevant theoretical principles in order to analyse the range of internal and external influential factors that shapes and drives business and management (C)
Have the ability to synthesise information with regards to complex business and management contexts (C)
Demonstrate key work-ready skills for the business and management environment (D)
Demonstrate skills of reflective and independent researchers (D)
Downloads
He Policies – Derby College (derby-college.ac.uk)
Course Handbook Foundation Degree in Business and Management (PDF)
How will you learn?
This course will be delivered on-site.
What will you need to bring with you?
The cost of the course is £6500 per year.
Most prospective students can apply for a loan through Student Finance to cover this cost.
Students may also need to provide their own materials for specific projects or purposes, for example costs associated with text books and educational visits to businesses around the UK and potentially abroad.
How will you be assessed?
A variety of learning and teaching methods appropriate to the level will be used, from formal lectures, tutorials and supervised practical exercises through to critical reviews of the work of other practitioners and development of research techniques. The taught sessions are complemented by directed and private study done in your own time. Out of the 18 hours a week, 12 hours a week are taught and the rest are self study. Students are also able to access Academic Coaching sessions.
We are planning that our teaching, learning and assessment for 2021/2022 will be both online and face to face (blended). Each module will take a unique approach that best supports you in achieving the learning and assessments. You will be part of a variety of online lectures, discussions, tutorials and activities. You will have access to a Virtual Learning Environment (VLE) where a range of resources and activities will be provided. You will engage with your peers and teachers via Microsoft Teams, partaking in a range of planned sessions.
At times, we may be required to change our plans in order to comply with Government guidelines. If we make changes, you will be kept up to date via announcements through your course VLE.
It is expected that you will attend all planned sessions, whether they be online or in person. If you are not able to attend, you will be able to contact your tutor to discuss it with them and receive any support or guidance. A range of resources will be provided on the VLE for you to access following a missed session. The hours allocated per week include taught hours with the teacher and independent study sessions for the research and the development of content covered during lessons.
An agreed assessment strategy for Open University courses has been adopted at DCG in order to standardise across programmes in different curriculum areas.
Where next?
Further Study
After completing the Foundation Degree in Business and Management Year 2, students can progress to a BA (Hons) Top Up qualification.
Careers
The programme is designed to produce professional managers for the private, public or third sectors and for all sizes of organisation. Specific job roles may include manager, middle manager, head of department, operations manager, business analyst, project manager, consultant, account manager, marketing and communications manager, event manager, product manager, marketing generalist and business development manager.
Who do you contact for more information?
For more information contact Derby College on 0800 0280289 or enquiries@derby-college.ac.uk
Course Information for Employers
Information for Employers
If you are an employer and would like to know more about the apprenticeships and professional training we deliver or how you can get involved in co-creating and co-delivering curriculum, please contact us via email on businessenquiries@derby-college.ac.uk, call us on 01332 387 421 or visit our employer pages here.
Career Information
This course could lead to one of these careers...
Management Consultants and Business Analysts
£34659
IT Business Analysts, Architects and Systems Designers
£40177
Business and Related Associate Professionals n.e.c.
£23809
Business Sales Executives
£33722
Sales Accounts and Business Development Managers
£45589
Business and Financial Project Management Professionals
£43472
Marketing Associate Professionals
£24897
Other Administrative Occupations n.e.c.
£16700
Business and Related Research Professionals
£30479
Business, Research and Administrative Professionals n.e.c.
£39277
More Careers Information at: https://www.derby-college.ac.uk/career-pathways
DCG Success Stories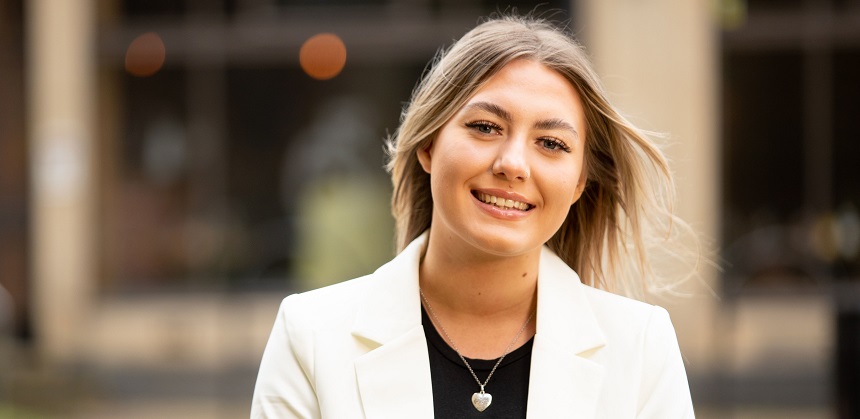 Georgia Herbert
DCG foundation degree student Georgia glad she fell into business
Doing the level 3 first rather than the three A Levels required to get on to the foundation degree, has been so helpful. I wouldn't say I know everything, but a lot of what we're learning now we've already touched on in the BTEC. We're currently learning about the self and professional development, looking at the skills you already have and how to develop them to adapt to working in industry. It's fascinating. I've learned such a lot about myself.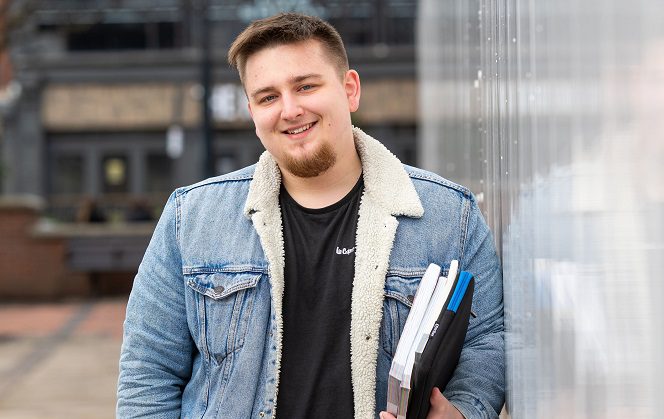 Kacper Bidniuk
Business student Kacper is enjoying exploring his options
One of the best parts of taking level 3 business is the opportunity to gain good work experience. In the first year we had a placement with First Response Finance in Nottingham. We were put into two groups and our group went to work with Head of IT and the team leader. As part of our work experience, we got to present our ideas to all the staff. It was fun – helpful and really well done. Get Started...
Use our online application form to apply for this course.
Course Information Last Updated On: December 2, 2021 3:22 pm