Diploma in Sports Performance (Health and Wellbeing) – Level 2
The Diploma in Sports Performance (Health and Wellbeing) targets students who are interested in broadening their knowledge about the body, lifestyle and nutrition, while learning how to deliver activities that promote healthy lifestyles.
Course Summary
School Leaver - Vocational/Technical
Location:
Broomfield Hall
Full Time or Part Time:
FT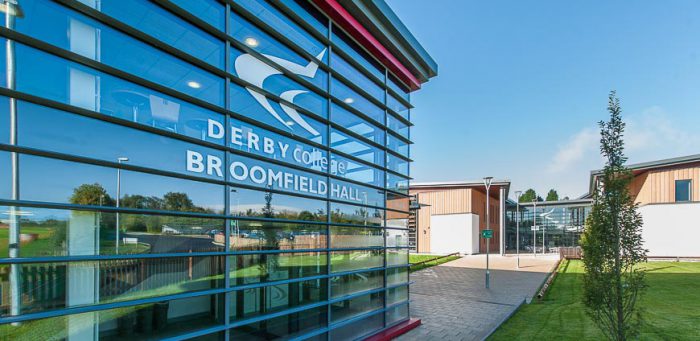 Apply now at: https://www.derby-college.ac.uk/course/diploma-in-sports-performance-health-and-wellbeing-level-2
Course Information for Students
Who is this course for?
This Diploma in Sports Performance (Health and Wellbeing) targets students who are interested in broadening their knowledge about the body, lifestyle and nutrition, as well as promoting healthy lifestyles and delivering activities to help accomplish this.
This is a one-year course and it will be suitable for candidates requiring one or both GCSE resits in English Language and Maths.
It is an ideal choice for students wanting to progress into roles such as Sports Massage Therapist or Community Health Activator.
Entry Requirements
Minimum entry requirements for this course include an expectation that the majority of your GCSEs are at grade 3 or better. There is the opportunity to resit either English Language or Maths should your GCSE profile support this.
There is a requirement for communication (discussing, presenting, reading and writing) and learners should have basic skills in communication pitched at Level 2.
Students should be motivated to undertake physical activity and are encouraged to participate in sports teams and AoC competitions or to volunteer to help in the organisation and delivery of activity sessions.
What will you learn?
The main qualification is made up of six mandatory units:
Nutrition
Psychology and Behaviour Change
Lifestyle Behaviours for Health and Wellbeing
Mobility and Functional Strength
Health Assessment
Massage Therapy
Your study programme will also include tutorial, enrichment, work experience totalling 54 hours, maths or English and a selection of additional qualifications such as Influencing Health and Wellbeing and the Award in Health and Community Activation.
You will be expected to maintain an attendance of over 95% throughout the year.
How will you learn?
This course will be delivered on-site at Broomfield Hall.
There are practical sessions in which you will be expected to take part and others that you are expected to lead.
We encourage learners to bring their own laptop to aid their studies.
What will you need to bring with you?
There are no additional costs but students are expected to wear black tops (t-shirts, jumpers, hoodies etc) when in class and when representing the sports department during coaching sessions. Students are free to wear what they choose on their lower half, providing it is suitable for the activity being undertaken.
There are DCG-branded options to purchase should students wish to do so. However, this is not mandatory: we merely expect compliance with our colour code.
If you also join one of our sports academies, you may be required to purchase an academy-specific uniform which is an additional cost set by that academy.
How will you be assessed?
There will be ongoing assessment throughout the year. Each unit will be assessed through different means and will include worksheets, presentations, case studies, practical delivery and observations.
Your time keeping and organisational skills will need to be strong in order to meet assessment deadlines throughout the year. Your personality and ability to motivate and engage will be a strong focus to prepare for employment in this sector.
Your GCSE English or Maths resit will be assessed through a series of examinations at the end of the year.
Where next?
Further study
This course is designed to allow you to progress to the Level 3 Sports Massage Therapy study programme or other higher level Sports programmes to develop your skills further. Alternatively you may wish to start a different course in another area of study. This will be dependent on your attendance, behaviour and references from teaching staff. The achievement of maths and English is a priority for progression.
Courses that would be suitable are:
Level 3 Diploma in Sports Massage
Level 2 Certificate in Gym Instruction
Level 3 Extended Certificate in Sports and Exercise Science
Careers
The skills you gain are transferable to a wide range of career areas but will particularly enable you to join organisations within the sport and leisure sector.
Who do you contact for more information?
Course Information for Employers
Information for Employers
If you are an employer and would like to know more about the apprenticeships and professional training we deliver or how you can get involved in co-creating and co-delivering the curriculum, please contact us via email on businessenquiries@derby-college.ac.uk, call us on 01332 387 421 or visit our employer pages here.
Career Information
This course could lead to one of these careers...
Sports Coaches, Instructors and Officials
£18115
Sports and Leisure Assistants
£10316
Other Health Professionals
£34498
Leisure and Sports Managers
£23569
Youth and Community Workers
£23112
More Careers Information at: https://www.derby-college.ac.uk/career-pathways
DCG Success Stories
Discover how our students have achieved success. Their hard work and dedication to learning has enabled them to succeed in rewarding careers or progress onto higher education. We encourage progress and aspirational outcomes by guiding people onto learning pathways that lead to positive destinations. Our students have gone on to achieve great things since leaving the College. We would like to share some of their inspiring success stories with you. Get Started...
Use our online application form to apply for this course.
Course Information Last Updated On: October 21, 2022 4:37 pm