Creative Practice Foundation Degree (FD)
The FD Creative Practice is a brand new full-time programme validated by The Open University. It marks the beginning of an exciting partnership between Derby College Group and the University.
Course Summary
Subject Area:
Art and Design
Higher Education
Location:
Joseph Wright Centre
Full Time or Part Time:
FT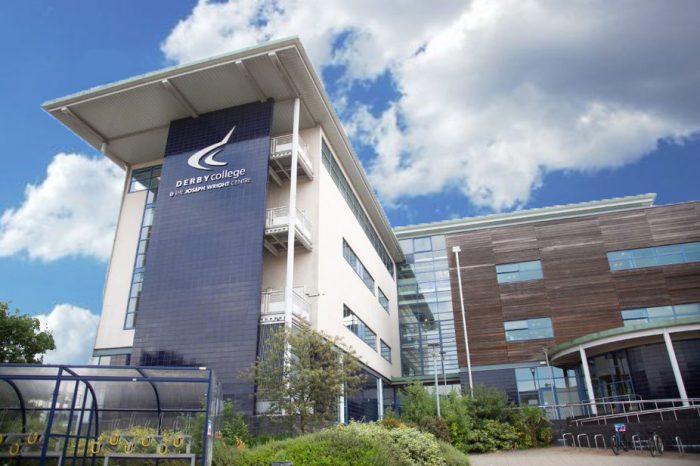 Apply now at: https://www.derby-college.ac.uk/course/creative-practice-foundation-degree-fd
Course Information for Students
Who is this course for?
As part of this unique programme, students will work with subject specialists in one of four strands (music, performing arts, media and art/fashion) to develop their technical and creative skills and knowledge in their chosen discipline. Students will then use these skills to collaborate with students from other disciplines to enhance their creative work and develop employability skills.
This collaboration sets the course apart from other more specialist degrees and allows students the opportunity to broaden their set of skills, to cultivate good working relationships with other creative professionals, and to develop a comprehensive portfolio of work that is ready to show to potential clients in industry.
As well as the opportunity to take part in vibrant practical projects, students will learn skills and knowledge that are essential to succeed in an industry that is one of the fastest growing areas of the economy. Students will learn how the creative industries are structured, funded and governed, and crucially how to be work-ready in an industry where nearly half of all practitioners are self-employed.
The broad nature of the course means that it could lead to a wide range of jobs in various industrial areas, from graphic design, photography and film to composition, production and fashion.
On completion of this two-year FD, students can then progress to the one-year Level 6 top-up and claim a full BA (Hons) degree.
More information and guidance on studying HE courses at Derby College Group, including the Open University regulations, can be found at: https://www.derby-college.ac.uk/university-higher-education-undergraduate
More information from the OU on their partnerships can be found at: https://www.open.ac.uk/about/validation-partnerships/sites/www.open.ac.uk.about.validation-partnerships/files/files/A-Z/OU-Students-Guide-19-20.pdf
Entry Requirements
You need a minimum of 112 UCAS points from creative Level 3 programmes (either A-levels or vocational routes).
Applicants will be considered without formal qualifications if they can demonstrate equivalent industrial experience.
Students will also need to take part in an audition or be prepared to show a portfolio/showreel.
What will you learn?
Each of the two years of the FD has a theme which runs through each of the practical and theoretical units.
Year 1
The first year allows students to take a 'snapshot' of practitioners within their discipline and beyond. Students will reflect on how their work fits into the wider creative landscape by gaining a grounding in how the creative industries are structured, regulated and funded. Students will reflect on how change in creative practice has been driven, and will continue to be affected, by the digital revolution. The end of Level 4 will culminate in a creative symposium or event that showcases students' creative work in a way that is collaborative. Students who successfully complete this year will be eligible for a Certificate of Higher Education.
Year 2
The second year forces students to push the boundaries of their creative practice and expand their own skills and competencies through study of "Creative Practice and Creative Techniques". Students will examine practitioners within their fields that are on the creative fringes by engaging with "Critique and Analysis" which will highlight not only self-approaches to creative work but also the impact on culture and society.
They will also study the monetisation of creative work, and the relationship between creativity and commerce, through "Entrepreneurial and Business" modules. This will culminate in another end-of-year symposium or show that will be creatively more adventurous in terms of content, themes or potential commercial value.
Students will take control of the marketing of this event by engaging with the modules in "Marketing" and "Experimental Practitioner Event" and will gain first-hand experience of attracting an audience to creative works that are more challenging. Students who successfully complete this year in addition to Year 1 will be eligible for a Foundation Degree.
Students who successfully complete the two years of the FD can progress to the one-year Level 6 top-up and claim the full BA (Hons) Creative Practice.
In the current climate, delivery will be mixed between face-to-face and online.
Downloads
FDCRE 1.PDF
Creative Practice Course Handbook Final.pdf
How will you learn?
What will you need to bring with you?
The cost of the course is £6500 per year. Most prospective students can apply for a loan through Student Finance to cover this cost.
Students may need to provide their own materials for specific projects or purposes.
How will you be assessed?
Assessment will be through a range of practical projects, group projects, academic writing and presentation work. Other assessment methods may be used to better meet students' needs.
Where next?
Further Study
Students can progress to the one-year Level 6 BA (Hons) Creative Practice top-up.
Careers
Students could progress into industry, either with an employer or as a freelance creative practitioner.
Who do you contact for more information?
For more information contact Derby College on 0800 0280289 or enquiries@derby-college.ac.uk
Course Information for Employers
Information for Employers
If you are an employer and would like to know more about the apprenticeships and professional training we deliver or how you can get involved in co-creating and co-delivering curriculum, please contact us via email on businessenquiries@derby-college.ac.uk, call us on 01332 387 421 or visit our employer pages here.
Career Information
This course could lead to one of these careers...
Arts Officers, Producers and Directors
£32115
More Careers Information at: https://www.derby-college.ac.uk/career-pathways
DCG Success Stories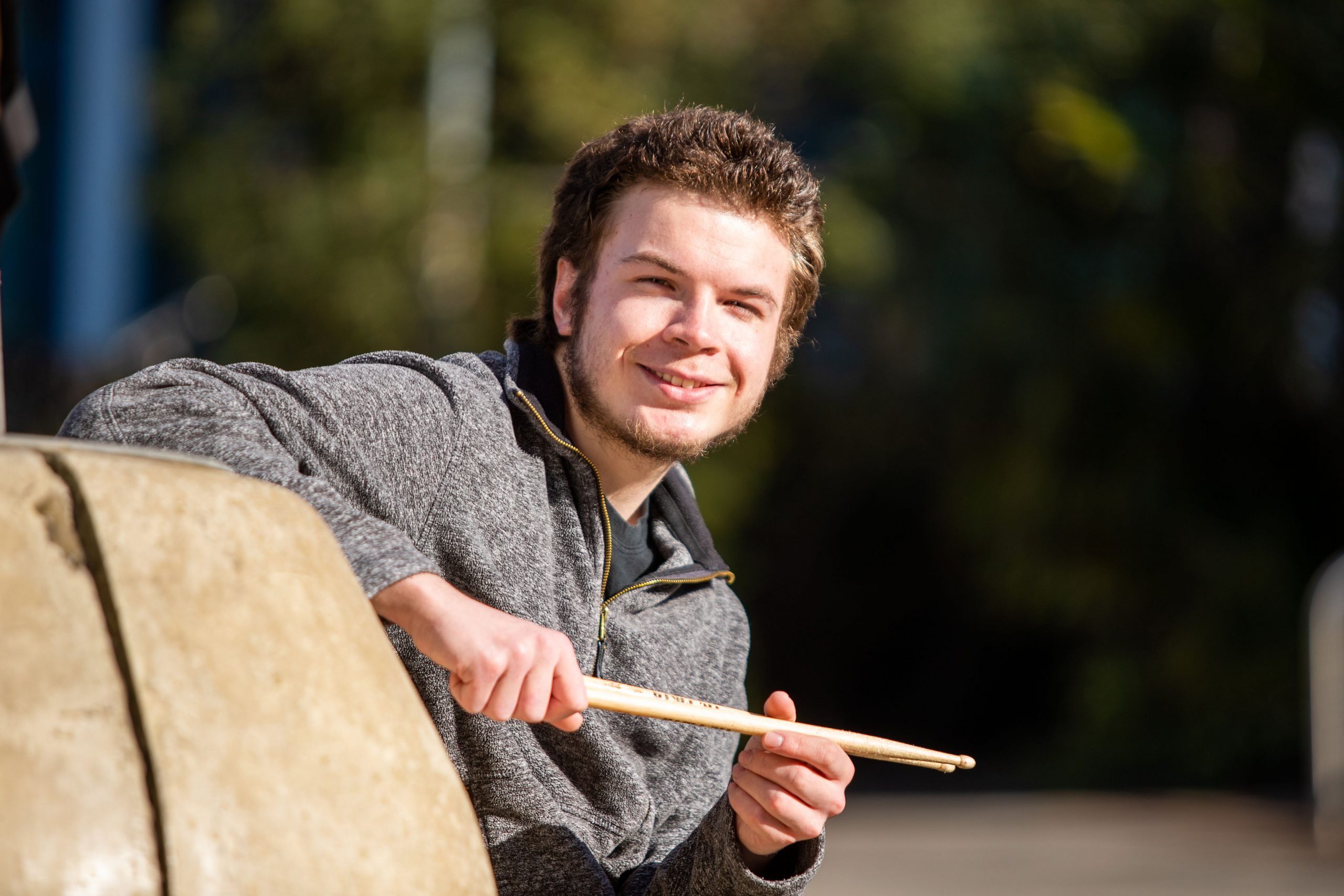 Richard Mylemans
Creative Practice foundation degree broadens music student's skills
Our course content is good. It looks at other fields, in this case computer technology, and how they work with the creative arts.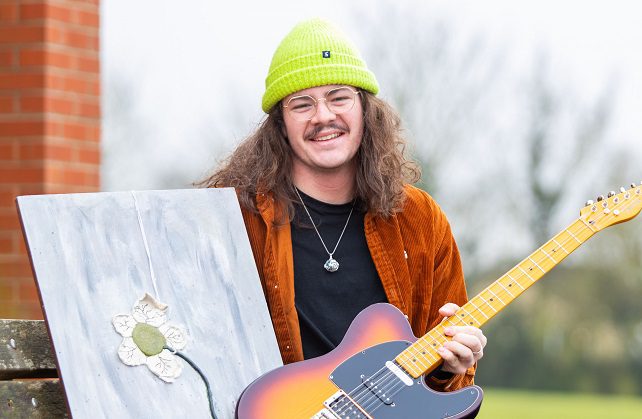 John Hancock
Foundation degree in Creative Practice offers nice content mix
The foundation degree allows us to be free with our ideas but at the same time it provides structure and discipline. We have to produce reports and portfolios of our work. On my course I write and record songs but I also make visual art too – painting on canvas – that sort of thing. If you're going to record music then there'll be some visual aspect to that too and this course gives you the opportunity to engage in the whole creative process. Get Started...
Use our online application form to apply for this course.
Course Information Last Updated On: November 26, 2021 4:26 pm