BTEC Level 2 Extended Certificate in Music Industry Skills
This course is designed to teach you the skills needed to kick-start a career in music.
Course Summary
School Leaver - Vocational/Technical
Location:
Joseph Wright Centre
Full Time or Part Time:
FT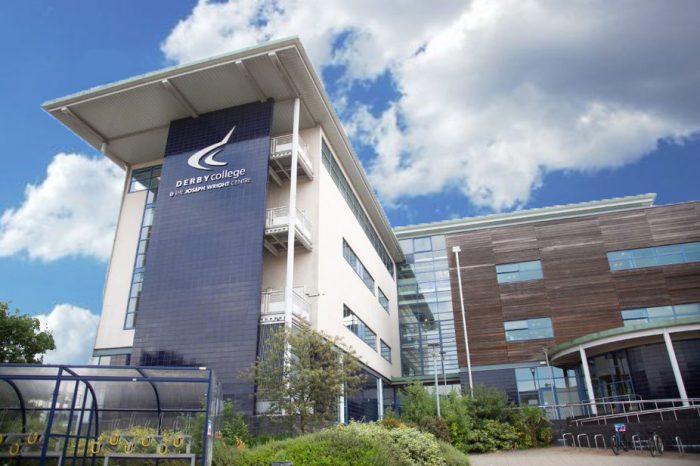 Apply now at: https://www.derby-college.ac.uk/course/btec-level-2-extended-certificate-in-music-industry-skills
Course Information for Students
Who is this course for?
This course is designed to teach you the skills needed to kick-start a career in music. Whether you are a performer, composer or interested in music technology, the course serves as an excellent introduction to this fast-growing and highly competitive industry and will prepare you for further study at Level 3.
Entry Requirements
You need grades D/3 at GCSE, including English Language and Maths (or a standard of maths and English at Functional Skills Level 1).
If you play an instrument or sing, you will be required to take part in a short audition.
If you are a composer or music technologist, you will be required to demonstrate some experience in these areas. Ideally this could be through relevant work experience or could include recordings of songs that you have produced or written yourself.
What will you learn?
You will study various units and take part in projects that are designed to improve your skills, knowledge and build your profile in different key areas. These will include:
Professional Development: you'll learn about different opportunities in the music industry and how to develop your skills.
Exploring Music: you'll learn about different styles of music from different eras, and create your own music in these styles.
Music Production: you'll learn how to use studio software. You'll advance your skills in audio recording, midi sequencing, mixing, and editing techniques.
Music Project: you'll explore music from around the world, and carry out a personalised study in the musical culture of a chosen country.
If you are yet to achieve a grade 4/C in English and Maths, you will also study these alongside the Music course.
How will you learn?
This course is delivered entirely on site through a mixture of workshops, taught sessions, practical work in groups and independent work.
What will you need to bring with you?
If you play guitar or bass, you will need to bring your instrument, as well as a jack cable and a pick (if you use one).
Drummers will need to bring sticks. Some like to bring their own snare or cymbals, but we provide these.
Vocalists might want to bring their own microphone, although we do provide these.
All students will need to bring a pair of earphones or headphones.
Students may be entitled to support in purchasing any of the above through the College's bursary fund, depending on their individual circumstances.
How will you be assessed?
Your BTEC Music assessment will be through coursework. This will entail a mixture of practical assignments, written assessments, presentation work and project work.
Where next?
This course is designed to prepare you for study at Level 3. You can progress to Level 3 if you successfully achieve your Level 2 Music qualification at a merit or distinction standard, and grade C/4 in English and Maths.
Who do you contact for more information?
For more information, contact Derby College Group on 0800 0280289 or enquiries@derby-college.ac.uk
Course Information for Employers
Information for Employers
If you are an employer and would like to know more about the apprenticeships and professional training we deliver or how you can get involved in co-creating and co-delivering the curriculum, please contact us via email on businessenquiries@derby-college.ac.uk, call us on 01332 387 421 or visit our employer pages here.
Career Information
Sorry - no lmi data
More Careers Information at: https://www.derby-college.ac.uk/career-pathways
DCG Success Stories
Discover how our students have achieved success. Their hard work and dedication to learning has enabled them to succeed in rewarding careers or progress onto higher education. We encourage progress and aspirational outcomes by guiding people onto learning pathways that lead to positive destinations. Our students have gone on to achieve great things since leaving the College. We would like to share some of their inspiring success stories with you. Get Started...
Use our online application form to apply for this course.
Course Information Last Updated On: September 12, 2023 2:13 pm