Academy – RIBBLE rechrg Race Team @ Derby College Cycling Academy
The RIBBLE rechrg Performance Academy programme gives aspiring young cyclists the opportunity to develop their race craft and physical attributes while studying academic qualifications in Sport to enhance their career prospects.
Course Summary
School Leaver - Vocational/Technical
Location:
Broomfield Hall
Full Time or Part Time:
FT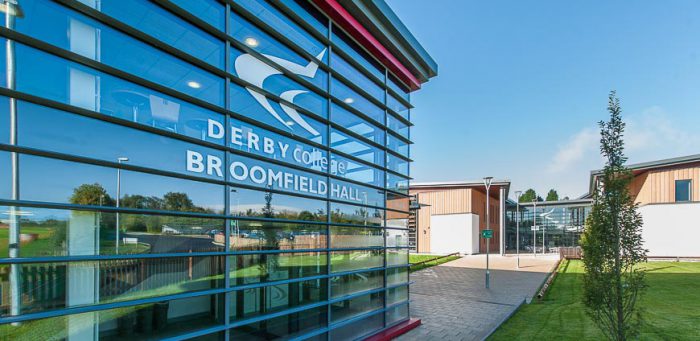 Apply now at: https://www.derby-college.ac.uk/course/academy-ribble-rechrg-race-team-derby-college-cycling-academy
Course Information for Students
Who is this course for?
The DCG Cycling Academy is delivered in partnership with the Ribble rechrg Race Team programme and gives aspiring young cyclists the opportunity to develop their race craft and physical attributes while studying academic qualifications in Sport to enhance their career prospects.
The College's partnership with the Ribble rechrg Race Team enables students to benefit from the expertise of highly qualified and respected coaches, which enhances the sport-focussed curriculum. Riders are able to maintain their existing links to clubs but may wish to ride as a Ribble rechrg team member should this be offered.
Training sessions and race schedules are carried out alongside your main programme of study, with a race calendar which is focussed on weekend events. The Academy race programme centres on road and track cycling but riders from cyclo-cross, bmx, mountain biking, cycle speedway etc are all welcome to enhance their performance in these disciplines.
Remote delivery of coaching and the academic course means that you can study from home and use your own training set-up to be part of the Academy. Riders will be able to remain with their existing cycling club should they wish to do so.
Entry Requirements
Applications are welcomed from individuals who regularly participate in cycling and who show a desire and willingness to develop their sporting performance.
To qualify as part of the Ribble rechrg Race Team, you must meet the physical and endurance demands of elite level cycling. This performance testing will determine if you are part of the race team. Other riders will enhance their performance as part of the DCG Cycling Academy but still receive the same training and access to advice.
Academy cyclists will need to have their own British Cycling Race licence, or be prepared to obtain one in order to gain entry points for specific races.
Entry to the Level 3 Extended Certificate in Sports Coaching and Development or Sport and Exercise Science requires candidates to have a minimum of five GCSEs at grades 9-4 (A*-C) including English and Maths. This course has been designed specifically to allow for optimal access to your training programmes and can be delivered remotely for applicants who live further afield.
Riders can choose to study on-site and may also be able to access the Cycling Academy programme by studying a Level 2 course or A-levels, depending on if the timetable fits in with training sessions and performance tests. However, any GCSE resit requirements will take priority over your access to training.
In order to train and ride together, we strongly encourage riders to study a Level 3 Sport and Exercise Science pathway.
What will you learn?
The Academy includes:
A dedicated training calendar
Opportunities to progress to the elite race team
Training camps at Derby Arena
A competition programme based on your existing entries
Technical and tactical coaching
Psychological, physiological and lifestyle management
Strength and conditioning support
Opportunities for warm weather training
Nutrition plans and cooking tips
Bike maintenance
For academic course information, please see the Extended Certificate in Sports Coaching and Development or the Sport and Exercise Science web pages for further guidance.
How will you learn?
This course will be delivered on-site at Broomfield Hall.
Academy training plans will be shared through Training Peaks and monitored remotely.
What will you need to bring with you?
You will need to have a uniform that is worn every day in College*. The minimum expectation for the uniform is that you conform with our colour code. Plain black tops of any description are mandatory. DCG-branded uniforms are available for purchase if requested.
You will be limited to what bikes/rollers/kit you can store at Broomfield Hall and it is advised that you have suitable bike insurance. As part of the elite team, you may be required to purchase team kits/frames etc which will be offered at reduced prices.
Team kits consisting of winter training jackets, tops and tights will be offered as part of a subsidised package for students,
All learners should have a tablet or laptop to aid them with their studies.
There may be additional costs incurred for selected trips or overseas training camps.
*If choosing to study from home you must have a stable Internet connection and suitable environment in which to study, train and progress.
How will you be assessed?
Physical assessments will be conducted to identify your biological passport and physiological markers. Your performance will be closely monitored through the completion of a tailored training protocol via Training Peaks.
Academic assessment on the study programme will be continuous over the year. Assessment methods will vary depending on the subjects delivered. See our Sports Coaching and Development or Sport and Exercise Science pages for further details.
Where next?
School leavers are eligible for three years of funded education at DCG. Therefore students may wish to continue to the second and third years of the Sports Coaching and Development or Sport and Exercise Science courses or alternatively choose to study other related qualifications.
On successful completion of the course, students may wish to progress to the Foundation Degree in Sports Coaching at DCG or to seek employment within the sport and leisure sector.
Links with our local universities may see you selected for their cycling performance team alongside higher level study.
Who do you contact for more information?
Course Information for Employers
Information for Employers
If you are an employer and would like to know more about the apprenticeships and professional training we deliver or how you can get involved in co-creating and co-delivering the curriculum, please contact us via email on businessenquiries@derby-college.ac.uk, call us on 01332 387 421 or visit our employer pages here.
Career Information
This course could lead to one of these careers...
£0
£0
£0
More Careers Information at: https://www.derby-college.ac.uk/career-pathways
DCG Success Stories
Discover how our students have achieved success. Their hard work and dedication to learning has enabled them to succeed in rewarding careers or progress onto higher education. We encourage progress and aspirational outcomes by guiding people onto learning pathways that lead to positive destinations. Our students have gone on to achieve great things since leaving the College. We would like to share some of their inspiring success stories with you. Get Started...
Use our online application form to apply for this course.
Course Information Last Updated On: September 28, 2023 11:00 am